Titleist Performance Institute Certified
(Dr. Green is TPI Medical Level 2 and Fitness Level 2 Certified)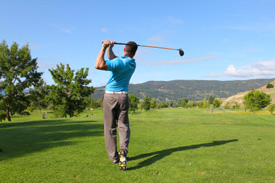 Titleist Performance Institute's (TPI) movement analysis system evaluates the Golf Body-Swing connection. TPI practitioners use this advanced screen to help determine if any physical limitations are preventing you from performing an efficient and powerful swing. TPI is the leading brand in golf instruction and works with many of the world's top golfers.
At Spine & Sports Injury Center, we use the TPI screen in conjunction with our advanced chiropractic evaluation to assess and treat common injuries or deficiencies that occur in the golf swing and enhance power and consistency.
What does TPI stand for in golf?
Titleist Performance Institute. The
Titleist Performance Institute (TPI)
developed a program to train Golf Professionals, Personal Trainers, Physical Therapists, Chiropractors and Medical Practitioners to understand the correlation between a golfer's physical limitations and their swing flaws. It allows us all to speak the same language to best assist the individual golfer.
How many times does your golf professional want you to get the club "here"but you can't physically do it? The philosophy of TPI is to achieve the most efficient swing that one can physically do, retaining individuality and precision.
By assessing a "total picture" of your body we will recommend a program that will optimize your performance.
What do the screen results tell me?
The screening process can reveal flexibility loss, strength loss, coordination and balance issues. The exercise program is customized to address your limitations.
Improved mobility and increase joint range of motion
Core stability and improved balance
Reduced risk of injury
Increase longevity of your golf game
Increase power and maximize performance
Improve golf posture
Connection to Swing Solutions?
Our Certified TPI Providers are trained to address body mechanics, while the PGA Professionals are experts in swing mechanics. We can refer you to a PGA Professional if indicated.
What is Dr. Greens' expertise relative to athletes and golfers?
Dr. Green holds the Titleist Performance Institute Certifications Medical Levels I & II along with Fitness Level 2 Certifications. Dr. Green has over 30 years' experience in treating athletes including golfers and hundreds of professional, Olympic and Collegiate Athletes. DR. Green played Division 1 Tennis and holds a 3 handicap and plays competitive golf in Massachusetts and understands all aspects of the game. He was the first official chiropractor of The Boston Red Sox and has worked with hundreds of the best athletes in the world.
The TPI Evaluation will consist of a 16-point screening to determine the golfer's range of motion, strength, flexibility, stability, posture, and balance.
The TPI physical screen will isolate any physical limitations and correlate these findings to your swing characteristics. With these findings, the TPI certified medical professional will develop a customized exercise program that focuses on correcting any imbalances that may be affecting your swing efficiency. You will receive the program via email including instructional videos on each exercise.
To schedule your TPI Screen call (617) 247-2300.
How can I schedule a screen?
Call Spine & Sports Injury Center at (617) 247-2300 to schedule your TPI Screen
CONTACT US »

Golf Performance Care | (617) 247-2300