Meet Carly Stote, PT, DPT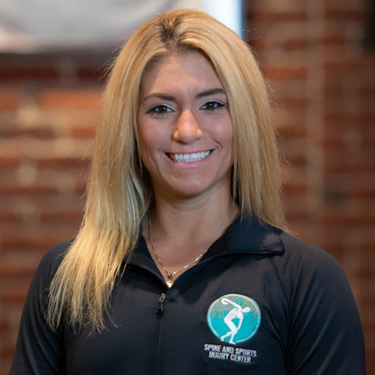 Education
Carly has a B.S in Kinesiology: Exercise Science from the University of New Hampshire and a Doctorate of Physical Therapy from Northeastern University, with a concentration in Sports Strength and Conditioning.
Athletic Background
Carly's athletic background, including collegiate level gymnastics and crossfit training, has molded her passion for fitness. This led her to pursue a career in improving client health, wellness, and quality of life through exercise and rehabilitation.
Experience
Carly has experience in conducting both group, and one-on-one training sessions. Carly has worked in several fitness facilities, where she has performed fitness testing and health assessments for incoming members. She prescribed exercise regimens based on individual's physical limitations, goals and needs analysis. She has trained individuals through resistance training programs, sports-specific exercises, agility regimens, plyometric activities, aquatic therapy, treadmill training, and therapeutic exercises.
Carly constructs quality-driven programs to demonstrate achievement of objective measurements and is dedicated to organizational goals. She delivers motivating and high energy training, incorporating strength and cardiovascular training into her programs. She is able to help diverse populations achieve their desired fitness levels and conditioning training in a safe and effective manner.
Carly has had the opportunity to train high school, collegiate and professional athletes, including the Cincinnati Reds and Merrimack College Athletics.
Relevant Courses and Certifications:
PT: Advanced Topics- Principles of Strength Training and Conditioning
PT: Sports Medicine – Managing the Injured Athlete
Exercise Physiology:
Science and Practice of Strength Training
Exercise Laboratory Techniques
Fitness and Graded Exercise Testing
Exercise Prescription and Leadership in Healthy and Special Populations
Professional Baseball Athletic Trainer Society (PBATS) Conference Attendee
Mass General Sports Medicine: UE Injuries in the Athlete Conference Attendee
Functional Movement System (FMS) Training
CPR/AED/First Aid Certification

Carly Stote, Personal Trainer Boston | (617) 247-2300