Meet Dr. Richard Green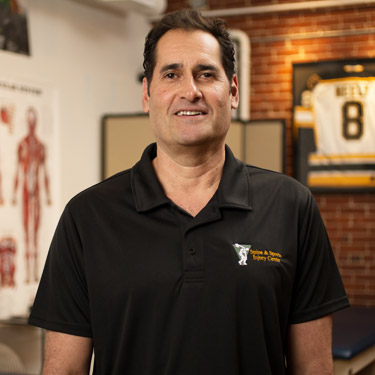 Title: President and Chiropractor
Contact Information: drgreen@spineandsports.org
Location:
Dr. Green is a Chiropractor at our Back Bay / South End and South Boston / CrossFit Southie location.
Education:
Los Angeles College of Chiropractic
Bachelor of Science
Doctor of Chiropractic
University of Miami
American College of Sports Medicine Team Physician Course Part I, II & III.
Clinical Experience:
2012-2019 Medical Director of Athlete Services at North East Regionals Crossfit Games Canton, MA, Hartford, CT, Albany, NY.
Boston Red Sox Team Chiropractor 1991-2005
Chiropractic provider for many Boston Bruins players since 1992
Reeboks' Corporate Headquarters official in-house chiropractor 2001- 2019
Chiropractic Provider for Invictus Boston and CrossFit Southie
Chiropractor for Delta, Northwest and United Airlines 1991-1994.
Clinical Interests and Certifications:
Full Body Active Release Provider since 1995
Titleist Performance Institute Certified Medical 2, Fitness Level 2 & Power Level 2
SFMA Certified Provider
Postural Restoration Institute – Postural Restoration Certified
Functional Movement Screen Provider
Graston Technique Provider Level 1 and 2
ARP Wave Facility
Nerokinetic Therapy Level I & 2 Certified, Level 3 Eligible
Foundation Training Provider
Rock Tape & Fascial Movement Provider
Anatomy in Motion (AiM) Provider
Fascial Manipulation Provider
Active Isolated Stretching Provider
Personal Interests:
Outside of Spine & Sports Injury Center, Dr. Green enjoys time with his son, watching him learn, grow and play sports. In his free time he enjoys golf, tennis, CrossFit travel and exercise of all kinds.
Publications:
Schmorl's Node Phenomenon, Journal of Neuromusculoskeletal System, Volume 2, No. 1 Spring 1994
Sacral Stress Fracture In A Female Runner: A Case Report, Journal of Manipulative and Physiological Therapeutics, Volume 30, No. 3
Contact us today to book an appointment with Dr. Richard Green.
Lower Back Pain
"Before seeing Dr. Green for the first time a few months ago, I was in almost constant pain and could not run five feet without serious pain in my lower back. Within a very short period of time after starting Dr. Green's exercise program, my pain improved. I am now able to run 3.5-4 miles three or four times a week with no pain at all. I would recommend Dr. Green to anyone who is suffering from lower back pain."
– B.H.

Dr. Richard Green | (617) 877-7754