Meet Dr. Richard Green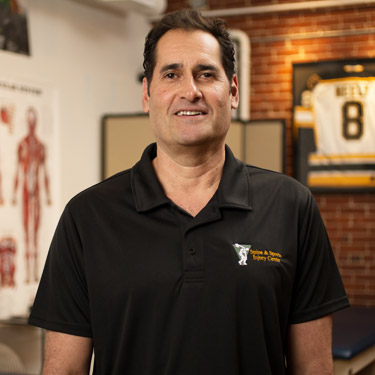 Golf Specific Training Only
Titleist Performance Institute Certified
TPI Certified Medical 2, Fitness Level 2 & Power Level 2
Dr Green graduated from Los Angeles College of Chiropractic in 1985. He has been practicing in the Boston area since graduation. Dr. Green, founder of Spine and Sports Injury Center was the first official chiropractor for the Boston Red Sox and has been practicing out of Boston's gyms since 1986, including The Boston Athletic Club, Sports Club-LA, Boston Equinox's Gyms, CrossFit Brick, Reebok CrossFit One and Healthworks Copley. He was the first chiropractic provider affiliated with Reebok and was the official in-house chiropractor for Reebok International at its Corporate Headquarters for over 18 years and was on the cutting edge of the explosion of CrossFit exercise.
Working with Elite CrossFit Athletes
Dr. Green was the medical director for Athlete Services for 7 years from 2012 thru 2018 for The CrossFit North East Regionals, the Regional Qualifying Event for The CrossFit Games. At these events Dr. Green and his team of 20-25 providers helped world's top CrossFit Athletes through the grueling three-day event each year. Dr. Green and his Athlete Service Team has treated thousands of the top CrossFit Athletes in the US and Canada East.
Dr. Green played D1 College Tennis and picked up golf after his College Days ended. He plays regularly and competes in local state and club tournaments. His handicap ranges from a 2-5 and is always striving to improve and help others.
"Golf has given me the most enjoyment from the time spent with my 17-year-old son on the golf course throughout his life. Golf has given us an activity that we continue to play together and enjoy on a regular basis".
Evaluation and Treatment Process
Dr. Green's uses his experience in playing high level sports, treating patients and athletes in developing golf programs for individuals. He specializes in a thorough evaluation of the whole body using Selective Functional Movement Assessment, which he performs alongside a Functional Movement Screen and TPI screening. Together, these assessments enable him to identify any muscular imbalances and/or movement patterns that may be dysfunctional due to old injuries, poor compensations as well as anything that may predispose someone to future injury.
Dr. Green believes in a hands-on approach, utilizing his manual therapy skills along with proper individualized exercise routines to achieve optimal results on the golf course.
CONTACT US TO GET STARTED »


Dr. Richard Green, Physical Therapy Boston | (617) 877-7754